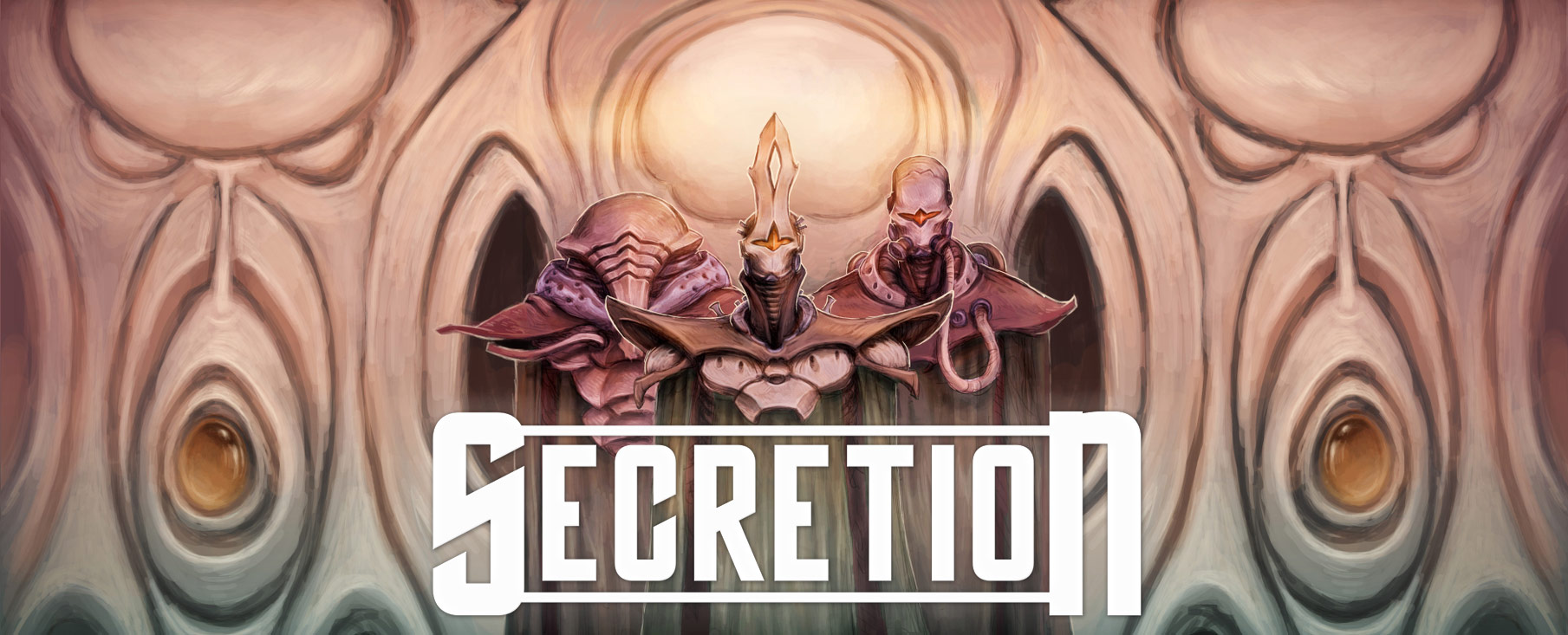 Secretion Desktop
A downloadable game for Windows and macOS
THIS IS AN EARLY ALPHA BUILD! BUGS ARE UNAVOIDABLE!
If you wish to support us while developing the game consider donating for pizzas or beers! (beer mostly)
SECRETION for PC, OS X and LINUX version 0.4

This version has completely new interface. We hope you will find it more enjoyable
New in 0.41 (8.7.2015):
- additional UI bug fixes
New in 0.4 (6.7.2015):

- new card-based UI
- fixed bugs accessing new planets
- fixed bug in calculating hangar upgrade price
- changed how you rebuild army
- several other bugs squashed
- probably new ones introduced due to new UI
New in 0.35 (12.05.2015):

- balance changes
- aerial bombardment
- added capsule, abduction, star ships and assimilation
- added score info
New in 0.32 (2.03.2015):

- reduced network communications
New in 0.31 (15.02.2015):

- added perspective view to RTS battle
- nice new shiny explosions in RTS battle
- added short cuts for ship commands
- increased number of drones on screen (this will probably be too much on slow machines)
New in 0.3 (15.02.2015):

- WASD controls for most parts. You can still use point and click way of control
- Aerial bombardment enhancements. Cities now fire back.


New in 0.2 (8.02.2015): updated GUI with short cuts and tool tips. Larger space battles.
We are actively working on the PC code, so expect more updates
View trailer
If you agree to stream, please send private message on twitch or youtube with your link in and steaming times so we can properly cover and announce you.

DEV UPDATE: We are slowly moving towards starting our Greenlight campaign. We will post updates in the coming weeks.

Secretion is a mix of space adventure, exploration, strategy and action game, where you mine minerals, craft materials, erect factories, assemble ships, create armies, purge enemies while taking care of your home planet's ecosystem. You do all that just to save the universe from plaque while avoiding to get infected during your quest.

Planets you visit are other player's planets, so be gentle with them, they can return the visit any time.

Beautiful cut scenes, hand drawn by Rok Ivančič, will tell you the story that starts in parallel universe where Cpt. Starship left and as you explore sectors of the universe, story will unveil further.

Please join us at https://www.facebook.com/SecretionGame and follow us on@SecretionGame or visit http://www.underverse.org for additional info

If you are having problems or if you find any bugs, please report them and we will try to address them ASAP.

iOS Version can be downloaded here: https://itunes.apple.com/us/app/secretion/id915790806?mt=8

Installer works on Win8 only, use .zip on Win7.
OSX is universal package. There is currently and issue with full screen on MacBooks Pro 13" with Retina. So run in window mode.
Linux is x86-x64 package so choose wisely ;)
(C) MediaAtlas.si 2015
Purchase
In order to download this game you must purchase it at or above the minimum price of $15.99 USD. You will get access to the following files:
Secretion-win-x64-0.4.zip
274 MB
secretion-win-0.42.zip
253 MB
secretion-mac-0.42.zip
260 MB
Also available on